We, MANGO-AUTO.JP, are legally certificated and trusted company in Japan, and have not only an exporting business around the world but also a variety of car business such as domestic car wholesaler, repair & inspection factory, painting & sheet metal work, and car parts assembly, all of which has been appointed by Japanese government as auto service station since 1979. Since then, we have developed strong ties with Japanese car dealers, wholesalers, used car auction houses, and parts manufactures, so this kind of achievement makes us continue to grow not only in automobile industry but also in car export.
Therefore, we could take advantage of such in-house services especially car inspection and maintenance without any cost. Our technical experts fully inspect and maintain the quality of all the vehicles in our stock to meet the highest quality standards at free of charge, and our inspection points are the same as Japanese government automobile inspection. We also have a long history of inland transportation business domestic in Japan by car carrier trucks that must be beneficial to our customers as another cost-effective.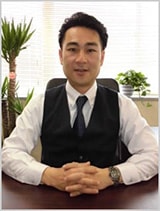 Please feel free to call us or e-mail at sales@mango-auto.jp for your any questions.
Company Profile
Trademark
MANGO-AUTO.JP
Company Name
Mango Japan Ltd.
Managing Director
Shin Ito
Capital
JPY 8,000,000
Address
5-31 Torimatsu, Kasugai, Aichi, Japan 486-0844
E-mail
sales@mango-auto.jp
Web
http://www.mango-auto.jp
Branch

Kasugai Office (Work & Photo Studio) / 2916 Kamitaraga, Kasugai, Japan 486-0801
Nagoya Office (Auto Service Station) / 2-2007 Iriba, Minato, Nagoya, Japan 455-0803

Business

Export of Japanese used car, truck, bus, and car parts
Export of special vehicle & construction machinery
Used car auction agent service
Purchase of used vehicles from end-user
Repair & inspection for automobiles
Painting, sheet metal work, car parts assembly
Sales of new & used car domestic in Japan
Agency of insurance service
Automobile transportation
Our Department
Our sales department has lots of Japanese bilingual staff with many years of experience, and has a strong responsibility with the right skills in the most professional way seeing from our customer's needs and standpoints. They give a relief for the first time customers as worry-free exporter.
Our sales staffs are kind-hearted, dedicated, and easy communicate to our each customer based on everlasting and one-on-one relationship, so you do not have to worry about anything even if you directly import from Japan for the first time. They always give the most right advice and explain every procedure one by one, from your purchase until import of your vehicle to your country.
Our shipping department provides reliable and skilled service and makes all possible efforts to arrange the earliest shipment to any countries over the world, to give assistance with time-to-time shipment status notification to our sales department, and always think of safety and efficiency first from Japan port until the destination port. Also, has developed a strong business relationship with shipping companies to make it more convenient to book the shipment at our negotiation price, and tie-up with our administration department regarding all documentations.
Regarding our purchase & stock department… click here
Regarding our parts department… click here
Our Policy
Our policy is to consider our customer first in any case, based on plenty of our experience to make a contribution to our customers all over the world. So we are thinking of how to improve ourselves every day to meet the needs of our customers and to become a better company with new idea in our originality. We have many of talented staff who will cooperate with you and keep on running toward our goal to be more reliable and global company.
Our company name, MANGO, expresses enrich all our life. Mango is juicy, aromatic, tasteful, tropical fruit, and available all over the world. Put a mango on the table and look! How lovely and attractive, it looks like something strong-willed and speaking to us like a friend making us bright and warm. Mango is needed and loved by everyone and cannot be ignored in many kinds of fruits, so we want to be such a company just like a sweet, sweet, mango fruit.
"Our greatest glory is not in never failing, but in rising up every time we fail."
by Ralph Waldo Emerson
Please feel free to call us or e-mail at sales@mango-auto.jp for your any questions.