CAR & TRUCK PARTS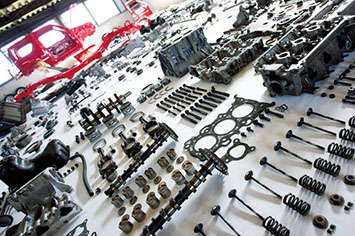 We have been dealing with a variety of car and truck genuine and cheap sourced parts (Toyota, Honda, Nissan, Mitsubishi, Subaru, Suzuki, Hino, Isuzu, Mercedes, BMW, etc) including used, re-build, OEM, and new, at wholesale prices for many years.
Please fill in the following form if you have any parts order (engine parts, electric parts, body parts, etc). As soon as receiving your inquiry form, we will send you a Free proforma invoice (quotation) by e-mail or fax with more details. Delivery method is available not only by sea but also by air or courier (EMS/DHL/FedEx) for a small lot to any countries.
The purchase procedure of spare parts is the same way as that of used vehicles, which kindly refer to How To Buy on the top category.
We accept 100% advance by T/T (Telegraphic Transfer) through your local bank, or you can pay with your credit card through PayPal account, which please refer to Payment on the top category for more details before click below.
If you have any questions, please contact our parts dept at parts@mango-auto.jp
For car parts dealer or shop
If you are car parts dealer or shop and want lot-order or start business relationship with us, please directly e-mail to our parts dept at parts@mango-auto.jp and we will reply to you as soon as possible!
T/T remittance (Telegraphic Transfer)
A method of the payment (remittance) arranged by wire transfer from your local bank with foreign transaction. This is the safest and simplest method and takes about 2 to 3 days to process the payment.